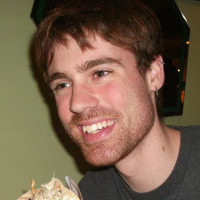 About Cody!
---
Hi there! I'm Cody, a Midwesterner putting down roots in Scandinavia a hoping to find the meaning of life in "hygge" and "smørrebrød". I was born and raised in Iowa but fell in love with Denmark while studying abroad in college and I still can't believe that four years later I'm back working as a Software Engineer at Microsoft Development Center Copenhagen.
Along the way I've lived in Germany and Estonia and visited most of Europe in an effort to find the best local cuisine and chinese food. It's been a delicious journey. My wanderlust isn't restricted to "reality", though, and I often look to books, TV, and film to discover new worlds. BBC greats such as Doctor Who and Sherlock, as well as US dramas such as Supernatural and Breaking Bad have stolen my heart. George R. R. Martin's A Song of Ice and Fire (Game of Thrones) shares the throne with Ender's Game for my favorite fantasy and sci-fi books.
I occassionally go somewhere or make something cool and write about it, so you can follow along on my new blog to stay informed. You can also read about my previous adventures abroad on my old blog.